Testimonials

12/10/2013
David,
I have been meaning to send you photos of Snowy Skye that we brought home from your farm. Now that she is one year old I figured it was a good time. Skye is from the Stella and Chubby liter (1) born on 12/2/2012.

We couldn't be happier with bringing Skye into our home. She is very smart, amazingly athletic and the most verbal dog I have ever seen. She talks to you and is able to communicate really well. She has 2 speeds... full out and sleeping! LOL. she started sleeping on my pillow in the bed when she was little and now at >50 lbs takes up the whole thing. She absolutely loves water and plays in the streams every time we hike in the mountains. We keep the pool gate up in Florida or she would be in and out of the pool all day long. When she was smaller we couldn't keep her out of the water bowl and had a flooded kitchen floor everyday. She liked to carry the bowl up to the couch spilling it along the way. We bought a huge metal bowl so she couldn't carry it. One of the photos that I sent shows her in the bowl. She couldn't carry it so she curled up in the bowl (with water in it) and went to sleep! A couple of the photos show Skye and Gator our 6 year old Aussie boy. They wrestle and run together and are great friends.

You'll see from the close up photos from today that she has beautiful facial markings and variegated blue eyes. Her nose has kept the pink and black pattern and I'm curious to see if it will stay that way.

Next time we find ourselves over by Shelby we'll come by with the dogs. I'm very happy that we found your farm. Skye is wonderful and we were very pleased with your professionalism, the quality of your farm and dogs and your pleasant personality.

Happy Holidays!

Cat and John




10/25/2013
OK David,
Just had to share this. Our vet office takes pictures for their facebook and it will go on their paperwork everytime we take a dog in. Isn't our princess just gorgeous? She is doing wonderfully. Very bossy if we do not jump when she wants us to. We can already tell how atheletic she is - jumping and fast as lightening. My vet said to absolutely make sure I get her over to Bon Clyde when she is old enough (training facility). Vet visit went well, updated on everything, will go again in three weeks. We have mostly kept her at home due to her age. I am here with her almost constantly. So far, she has been a joy! I will continue to update you and send pictures. This picture has got to be one of the best ones I have ever seen, course she is the prettiest princess I have ever seen (says the very proud mama)! She has access to outside whenever she wants to go so she spends a lot of time outside, just loves it. She has a million toys but seems to love her lamb the best. She just runs and runs. And John is like a chicken with its head cut off following her everywhere to make sure she is ok. She dug a nice big hole in his newly planted sod and he just said awww she is just a baby let her play..... UGH




10/14/2013
Hey David
Thought I'd share a photo with you.... this is photo from a Halloween fundraiser that I was at today. LOL.
Willow is doing well (that's her name). She is one smart cookie! She has really "found herself".... her bold and mischievous self that is! Holy smokes she is wide open now. And when she doesn't get her way? She tantrums just like a toddler. LOL. She doesn't have a shy bone in her body. Well, I take that back. A jet flew over the other day and she took off for the front porch. Bless her heart. BUT, she immediately came right back out. That's what I'm looking for. Being frightened of something scary is normal.... the important aspect is how quickly they rebound. She does. She is loved by all who meet her and those who haven't met her, still ADMIRE her beauty. She is just phenomenal. Just hoping she continues to develop as wonderfully as I expect her to!
Enjoy the picture. LOL.
Susan

5/8/2013
Hey David,
Matt and I received a tri colored Australian Shepherd in October from you and have named him Hoagie I have been wanting to write you for quite some time to let you know how absolutely pleased we are with Hoagie. He is everything we could have asked for in a dog. House training basically did not even exist as it was so easy nor was crate training. We travel with Hoagie between two places almost every day and he has been amazing in the car since day 1. People are constantly impressed with how intelligent he is and how quickly he picks up new commands. We are outdoorsy people and having Hoagie by our side has been a great addition to our adventures. I have recommended you to anyone who expresses interest in an Australian Shepherd. Attached our some photos of Hoagie.
Thanks,
Rebecca



4/19/2013
David:
I hope all is well there for you in Shelby. I wanted to send you an updated picture of Breeze. To refresh your memory, Breeze used to be called "DJ" I believe when she was at your kennel and she came from the "Diamond" and "Bullet" litter. We got her in January and she is now 5 months old. She is 34 pounds of solid muscle and growing up quite nicely. She has graduated from Puppy Kindergarten and has continued with a professional trainer since week 12 and has been a complete joy to train so far. I'm really looking forward to being able to get her into agility competitions when she finishes growing.
With Kindest Regards,
Kirk
Greenville, North Carolina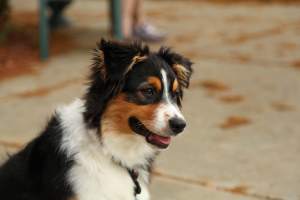 1/27/2013
Hi David
Just an update on the puppy (4 month old blue female) we got from you ~ she is more than what we could have hoped for ~ she has fit into our family and into the Therapy training ~ she is a dream to work with and training is easy ~ can't thank you enough for recommending her to us
have a nice evening
Jackie
---
Clineland Welcomes two new heifers
These Ohio natives are Waygu/Herford crosses. Many thanks to Tom and Cody at Hot Iron Enterprises for letting them come to Clineland.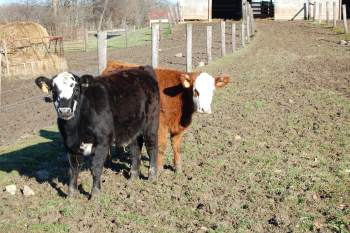 Special Rememberance
Shelby Cline Nally
Born: July 31, 1997
Crossed over the Rainbow Bridge: July 7, 2010


Shelby and Mommie-Back in 2002 for Andy's b-day party in the old Charlotte cemetary.
Taken in 2006 at Lucky's Day Care professionally. she was up on the photographer's website for months to highlite his pet photos as it was so stunning and she just worked the camera for him and he commented to me she was a natural poser and that I should get her in catalog work, but as you all would say, what, Delta Burke Doggie Clothes!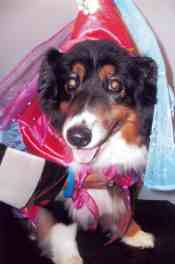 Shelby Halloween-Petsmart party, 2008,she hated that dumb outfit!! Shook the hat off immediately after the pic was taken and you can tell by that grin of hers, she was spoofing around all nite there!